Best iPad Pro Accessories
The performance of Apple iPad Pro is comparable to that of a laptop.
With the help of some accessories that can make your iPad Pro / Air 4 even better
When you have an iPad Pro / Air 4, why not make it even better and cooler by buying the accessories that go with it?
Here are the products we're going to introduce that you'll be happy with when you buy them!
1. iPad Pro Magnetic Stand

MagFit iPad Pro Magnetic Stand Foldable & Adjustable Float Stand for iPad Pro&Air4 / From $84.99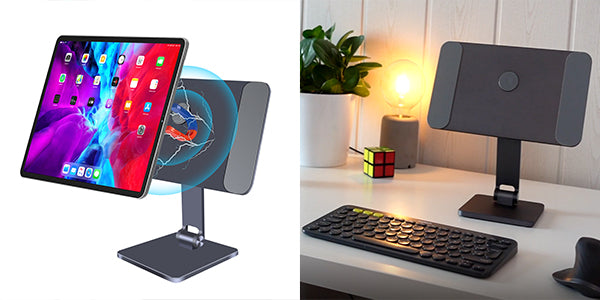 MagFit Magnetic iPad Pro/Air 4 Stand, Exclusive Design, All Aluminium And High Quality.
Get the most out of your iPad Pro/Air 4.
The strong magnetic, no need to rely on any magnetic stickers, just one second to smoothly suck your iPad Pro/Air 4.
The magnetic is strong enough!
Two Free stop pivots, with 360° swivel support,allow you to find the best ergonomic position whether you want to read, type, take notes, draw or use an external keyboard on your laptop or tablet with the 4 adjustable angles. Find the ergonomically optimal position.
Provides optimum comfort without straining your neck, arms, wrists or eyes.
In addition. It can be folded for easy portability. A great travel companion
2. Magnetic iPad Pro & Air Keyboard

MagicDock  Magnetic iPad Pro & Air Keyboard Magnetical Float Rotatable Aluminum Smart Keyboard Case / From $189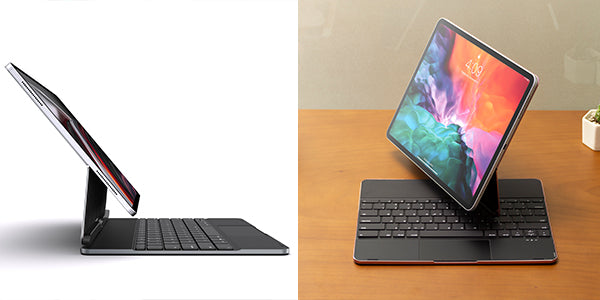 The Magic Keyboard is an amazing companion for iPad Pro and iPad Air.
It features a great typing experience, a trackpad that opens up new ways to 
work with iPadOS, a USB‑C port for pass‑through charging, and front 
and back protection. The Magic Keyboard features a floating cantilever design, 
allowing you to attach it magnetically 
and smoothly adjust it to the perfect viewing angle for you.