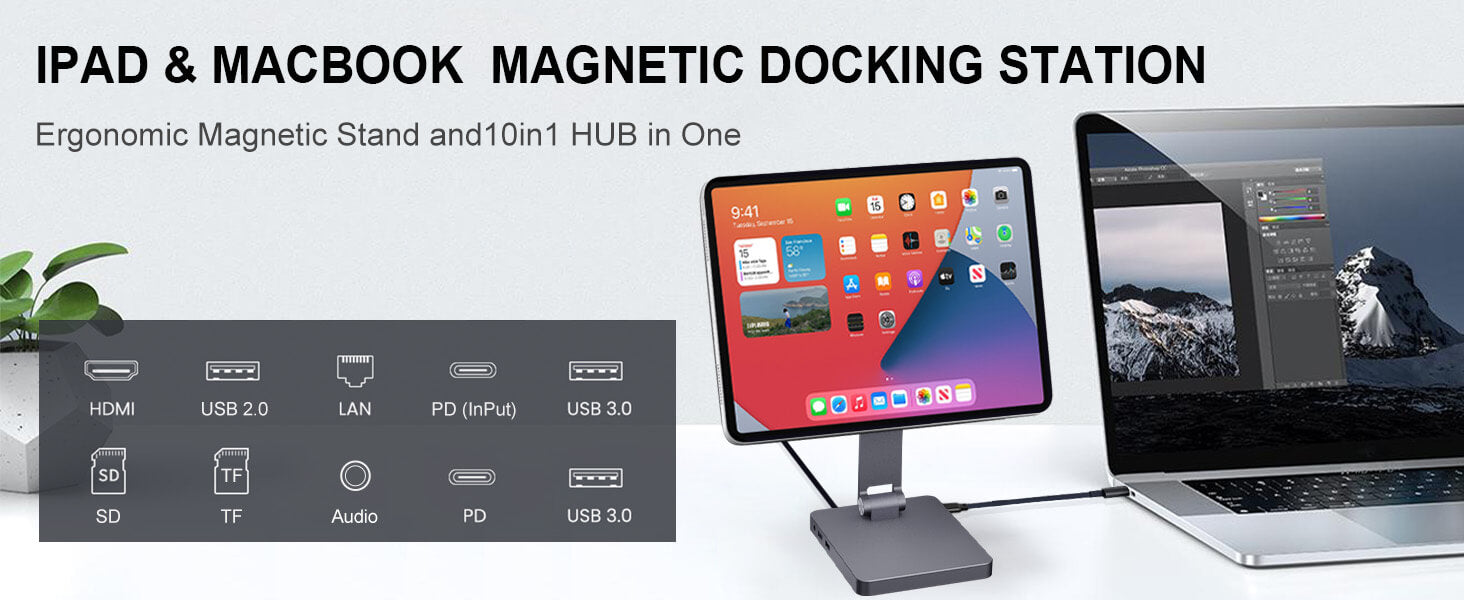 10 IN 1 DOCKING STATION, PERFECT FOR IPAD PRO/AIR 5&4
Magfit Magnetic iPad Pro Docking Station with 10 interfaces
The perfect combination of a strong vertical magnetic stand and 10 in1 USB C HUB.


Magfit Magnetic iPad Pro Stand & USB C Hub 
HDMI (Dp1.4 Up To 4K 60Hz)
PD100W Power Supply
USB3.1*2 (10Gpbs Transfer)
USB2.0
Rj Gigabit Lan Port
USB C Output
SD Card Slot
TF Card Slot
3.5mm Audio Jack

BEST FOR UNIVERSAL CONTROL & SIDECAR


Apple's newest feature" Universal Control "

It allows your iPad Pro to share other devices like keyboards with your MacBook and other Apple devices

Perfect for Apple fans who own multiple Apple devices at the same time!

Perfect for using Apple's latest features



UP TO PD100W CHARGING, SAVING YOU TIME
Charging your iPad Pro directly (free gift: cable)

Supports up to 100W input

Get unparalleled charging enjoyment

10Gbps data transfer rate designed to avoid data transfer delays

The MagFit iPad Pro USB C HUB creates a faster life for you

ENJOY UHD VIDEO ANYWHERE, ANYTIME
MagFit offers 4K 60Hz, designed to give you excellent visual enjoyment.
Just connect MagFit Magnetic iPad Pro Stand & Hub to external monitors by HDMI cable,
Can get 4k@60Hz display expansion and enjoy content in a bigger and better way.
Please note that HDMI is only compatible with iPad Pro 2018/2020/2021/Air 5/Air 4 & USB c devices (For example, MacBook, MacBook Pro, etc.)
Other models of iPad are not supported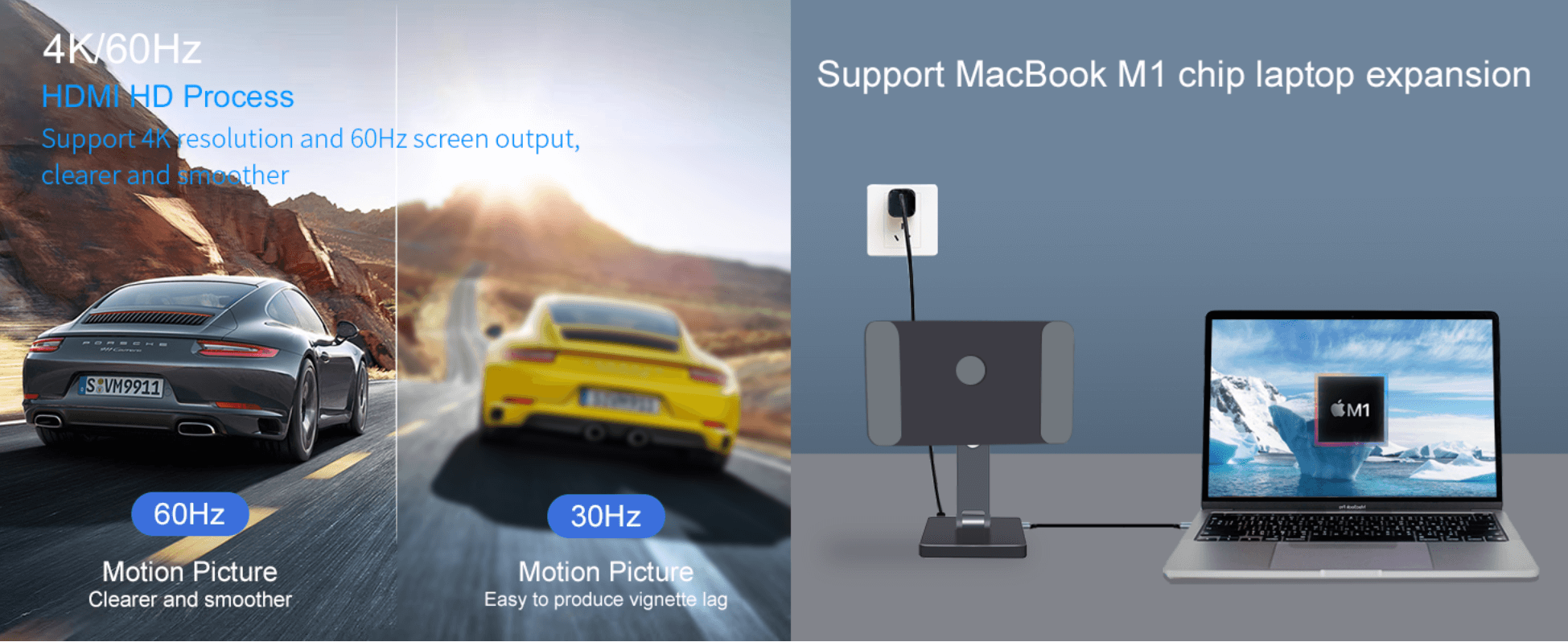 POWERFUL MAGNETIC STAND &  360° ROTATING SUSPENSION
Strong Magnetic suction
The perfect companion for iPad Pro
Make iPad Pro into iMac in seconds
Powerful magnet built in to support your iPad Pro/Air 5&4 perfectly.
No more unsightly marks on your iPad Pro/Air 5&4

360° rotating suspension
With hinge (Free Stop) technology,
The panel can be rotated 360° for easy portrait and landscape viewing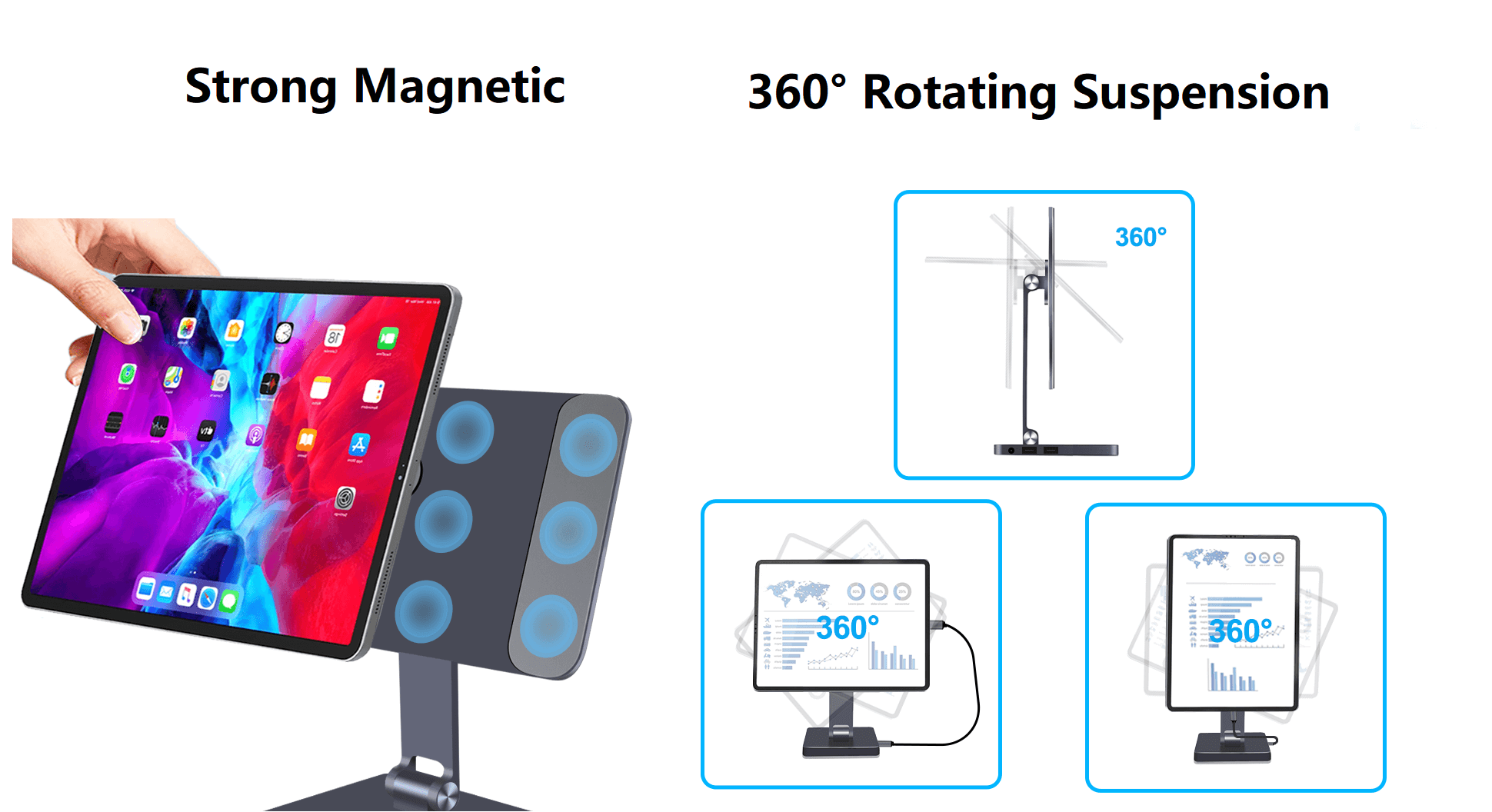 Support bar can be 180° folded
Two perfect 'Free Stops' 
Make the MagFit Magnetic iPad Pro Docking Station fold perfectly
Easier to fit in your bag
You can take MagFit Magnetic iPad Pro Docking Station wherever you want to go
Not limited to use at home
Please place correctly
1. Place the iPad on the desktop with the back facing up and the camera on the right.
2. Use the panel of Stand to feel the strong magnetic force. There are one-to-one magnets
Note: The center of the circle of the panel should be near the top.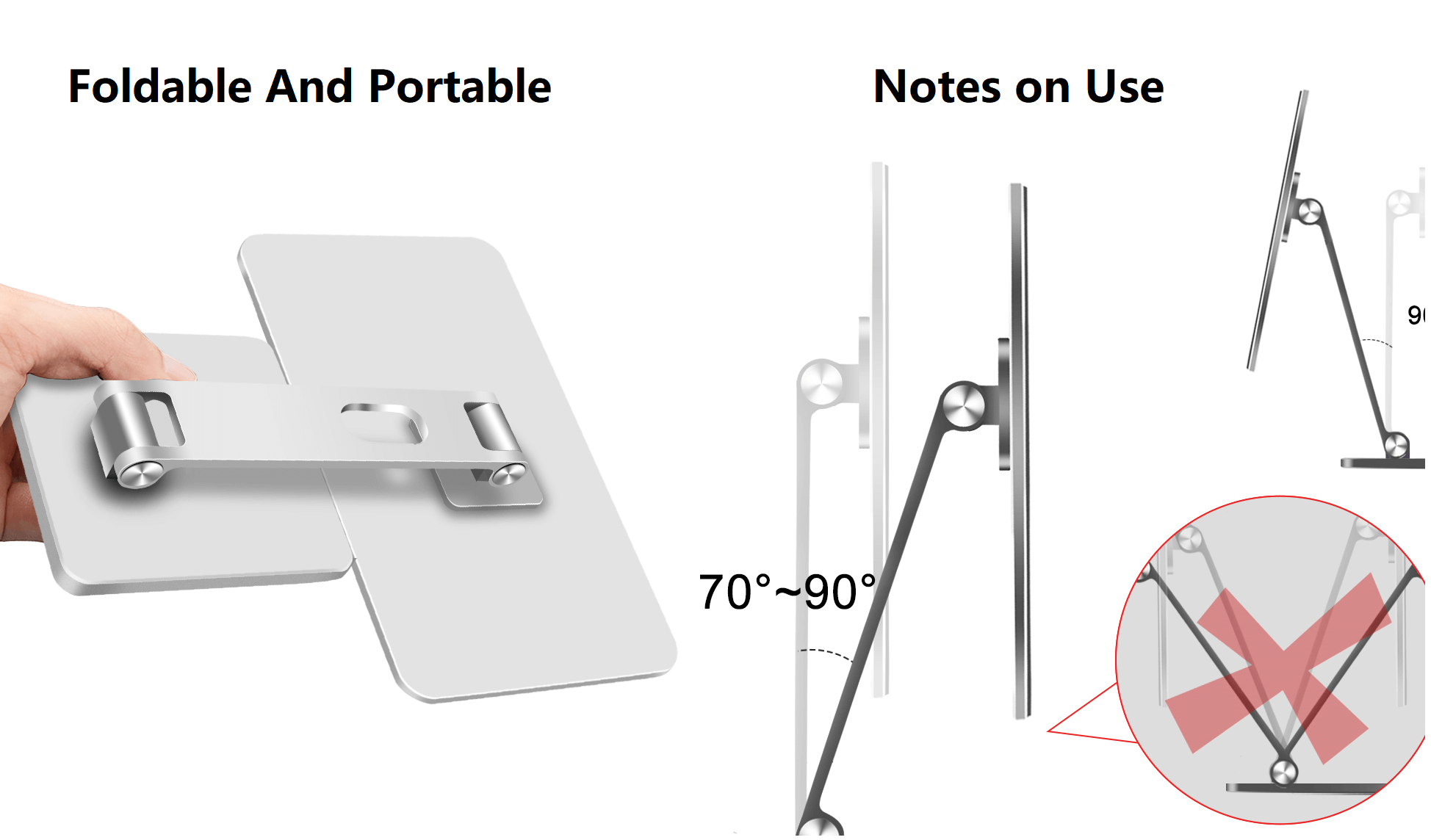 WIDE COMPATIBILITY, NOT JUST FOR IPAD PRO
The magnetic stand function is specific to the iPad Pro/Air 5&4.

But the hub function is widely available for iPad Pro, MacBook Pro, MacBook Air M1, Mac mini.

Supports Windows OS 7/8/10 (X86/X64), Mac OS 10.2+, Chrome OS, Linux, and more.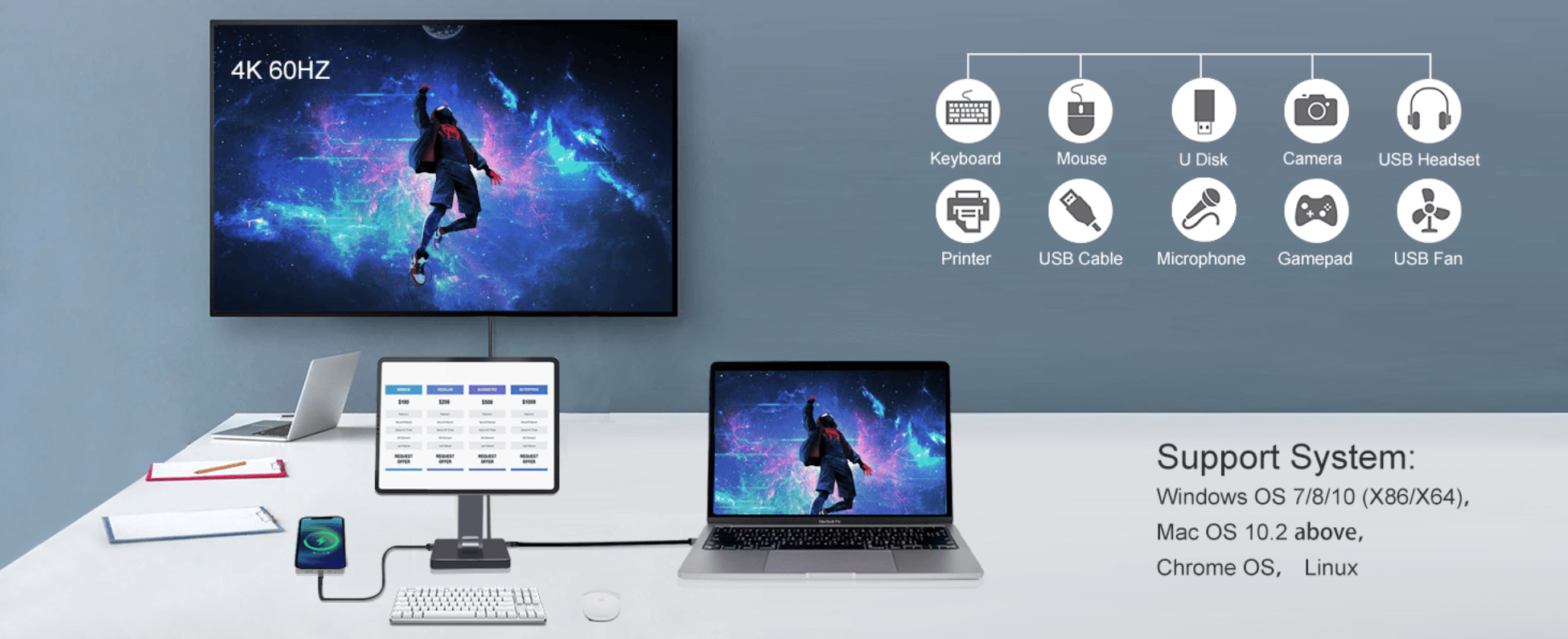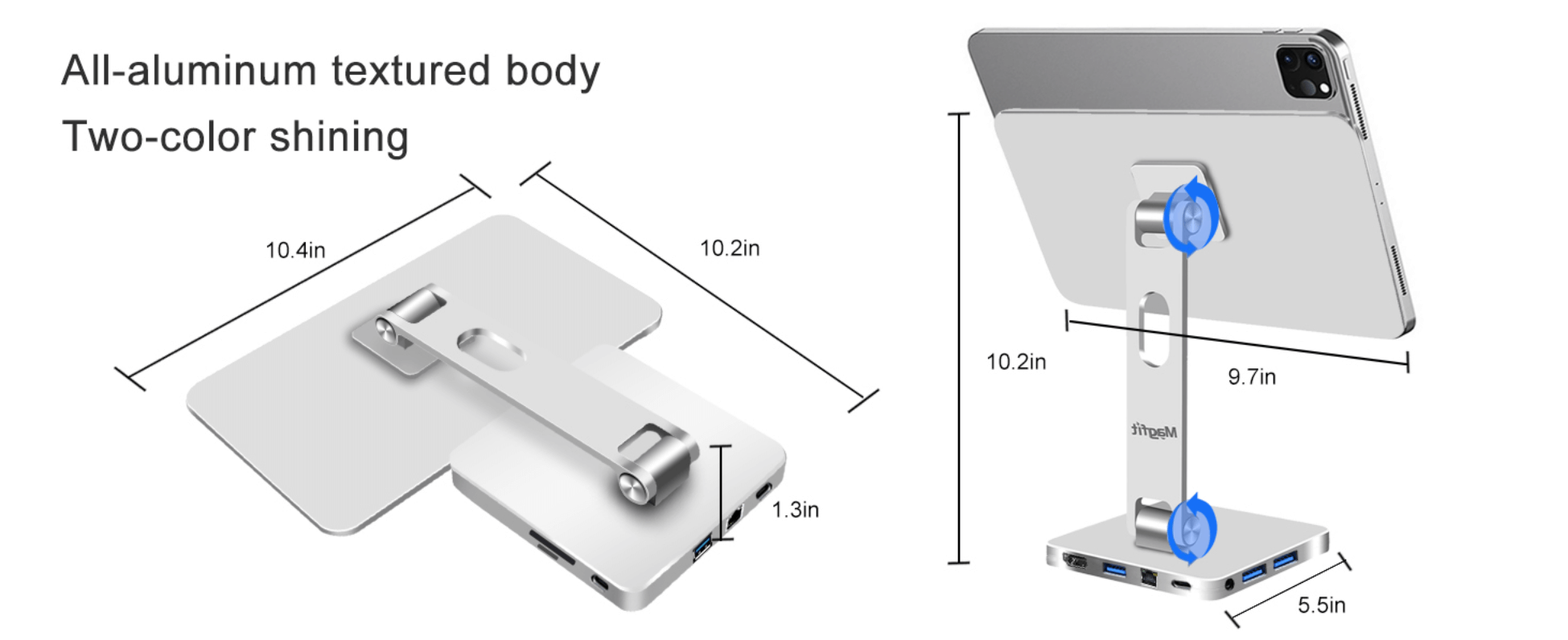 MAGFIT 10 in 1 DOCKING STATION SHOW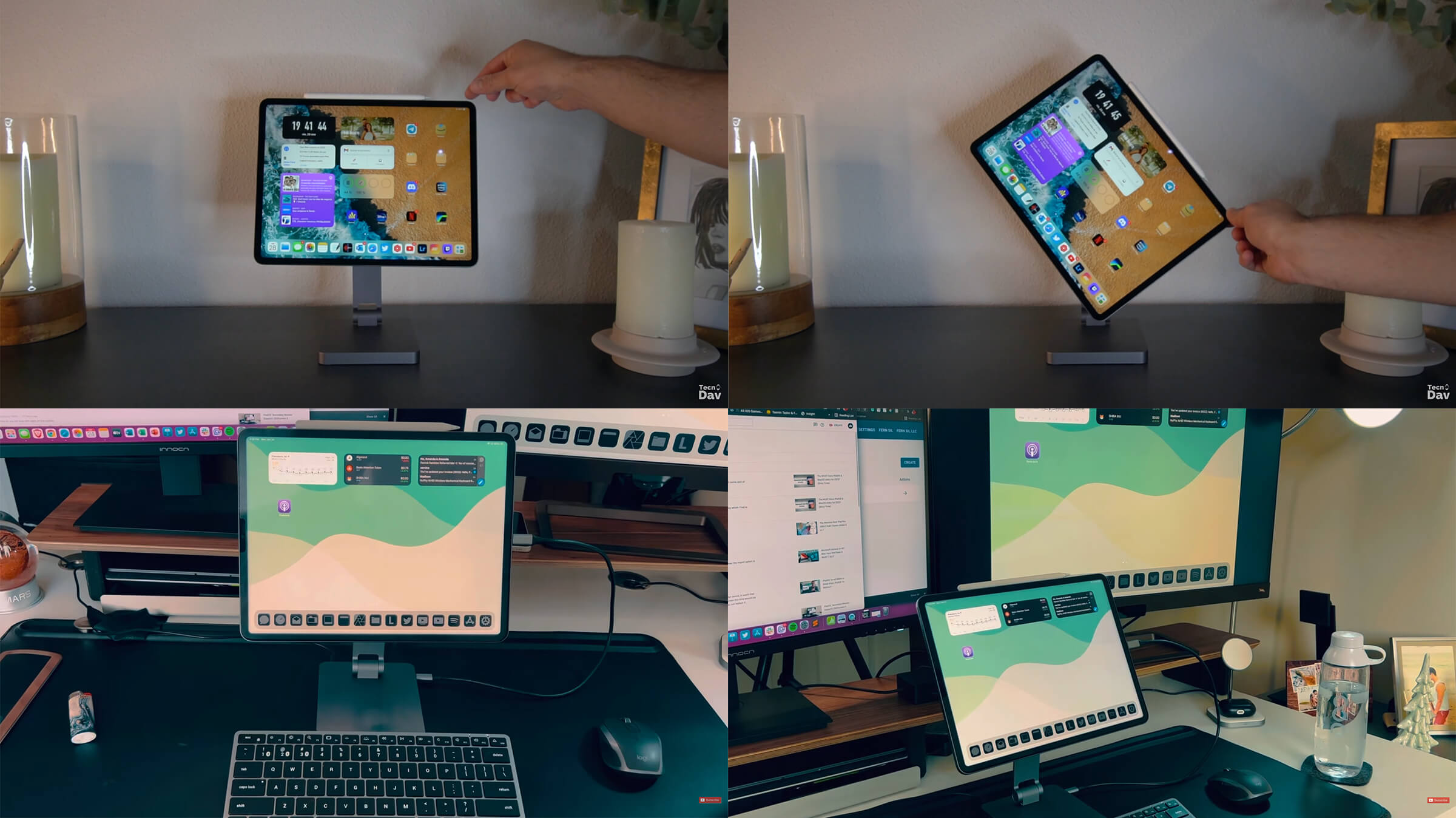 BUY NOW GET FLANNEL BAG 
Since June 16, the purchase will get a flannel bag as a gift, more intimate care to avoid scratching.Buy Now!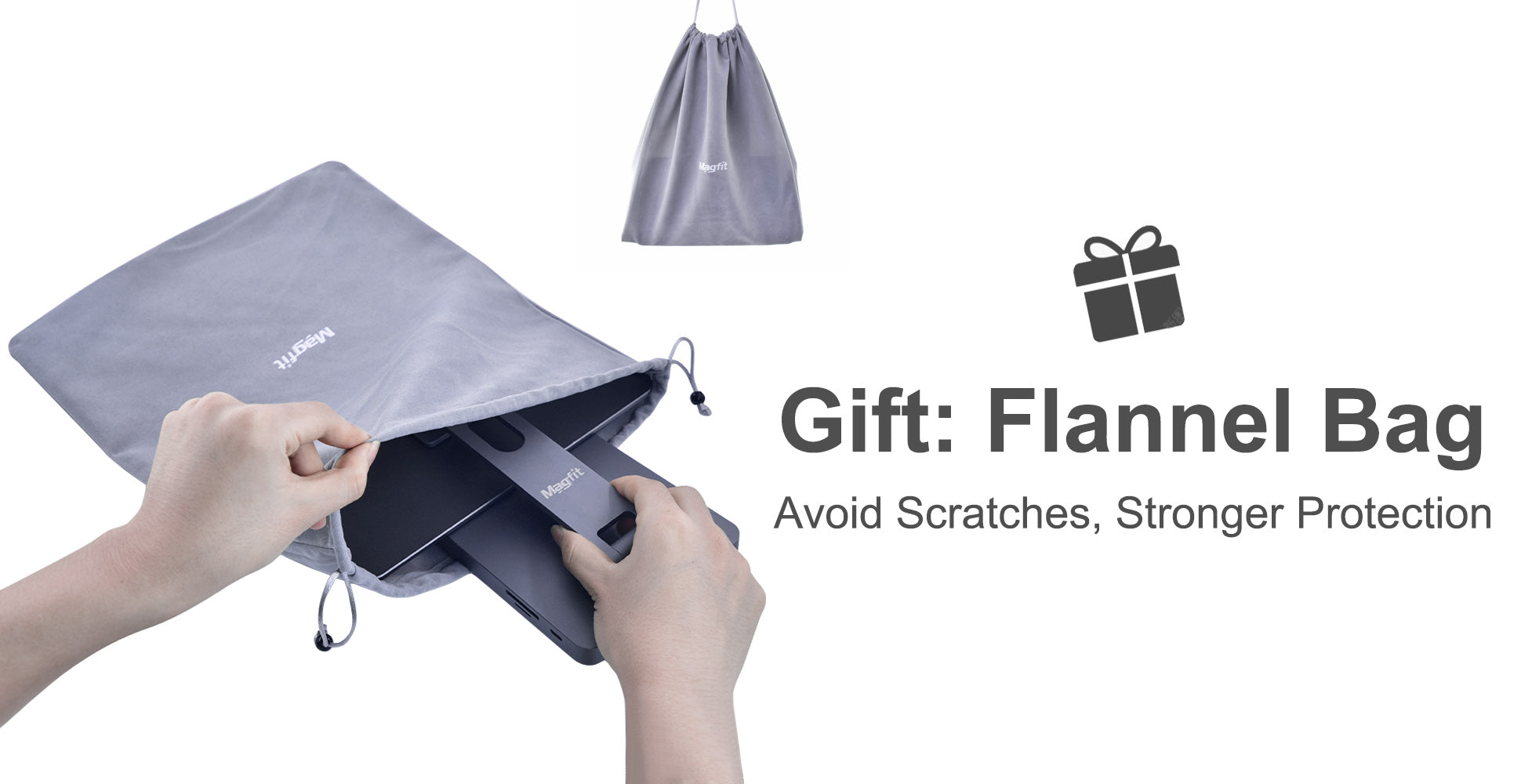 COMPATIBLE WITH:
Hub function compatible:
MacBook Pro, iPad Pro of the following models, MacBook Air M1, Mac mini, Windows OS 7/8/10 (X86/X64), Mac OS 10.2+, Chrome OS, Linux and more.
Magnetic Stand function compatible:
iPad Pro 12.9": 2021 (Gen 5), 2020 (Gen 4), 2018 (Gen 3)
iPad Pro 11": 2021 (Gen 5), 2020 (Gen 4), 2018 (Gen 3)
iPad Air 10.9":  Air 5th 2022 M1 (5th Gen), Air 4th 2020 (4th Gen)

Check which iPad Pro you have!
Go to Settings App > General > About > Model Name.
NOTE:
1. Please confirm your iPad Pro model first to choose the corresponding product.

2. When using the magnetic bracket to fix your iPad, please carefully align the magnet position, and then let it go after it is firmly attached to prevent the iPad from falling.

3. If you find that your iPad cannot be attached, please rotate the magnetic panel 180° and try again.

4. The laptop needs to have a USB C port to use.

5. If HDMI output wants to achieve a 4K 60Hz effect, it needs the support of receiving device.

6.You can use the official ipad pro charger and cable as the hub power supply plug
7.The plug is recommended to be more than 45W
8.Please note that due to light and screen, there will be color difference.
As advertised!
No issues! had it for a few weeks works as adverse!
Great product
My only complaint is the usb-c data cord stopped working within a week so I had to buy a new one. Would have been great to have wireless charging for devices but I believe they are releasing one with that soon. Also it stopped working with my HMDI hub suddenly, not sure if it's the hub or it yet as it still works fine when just connected to the monitor and the hub works fine with other devices… Compatible for traveling between home and work. Haven't found a good protector for it while transporting it though so being careful not to scratch it. Very strong magnets. Great product overall.
Thank you for your real and fair comments!
About the cable, our after-sales team will contact you to solve the problem!