Why you should use "Universal Control"
What is Universal Control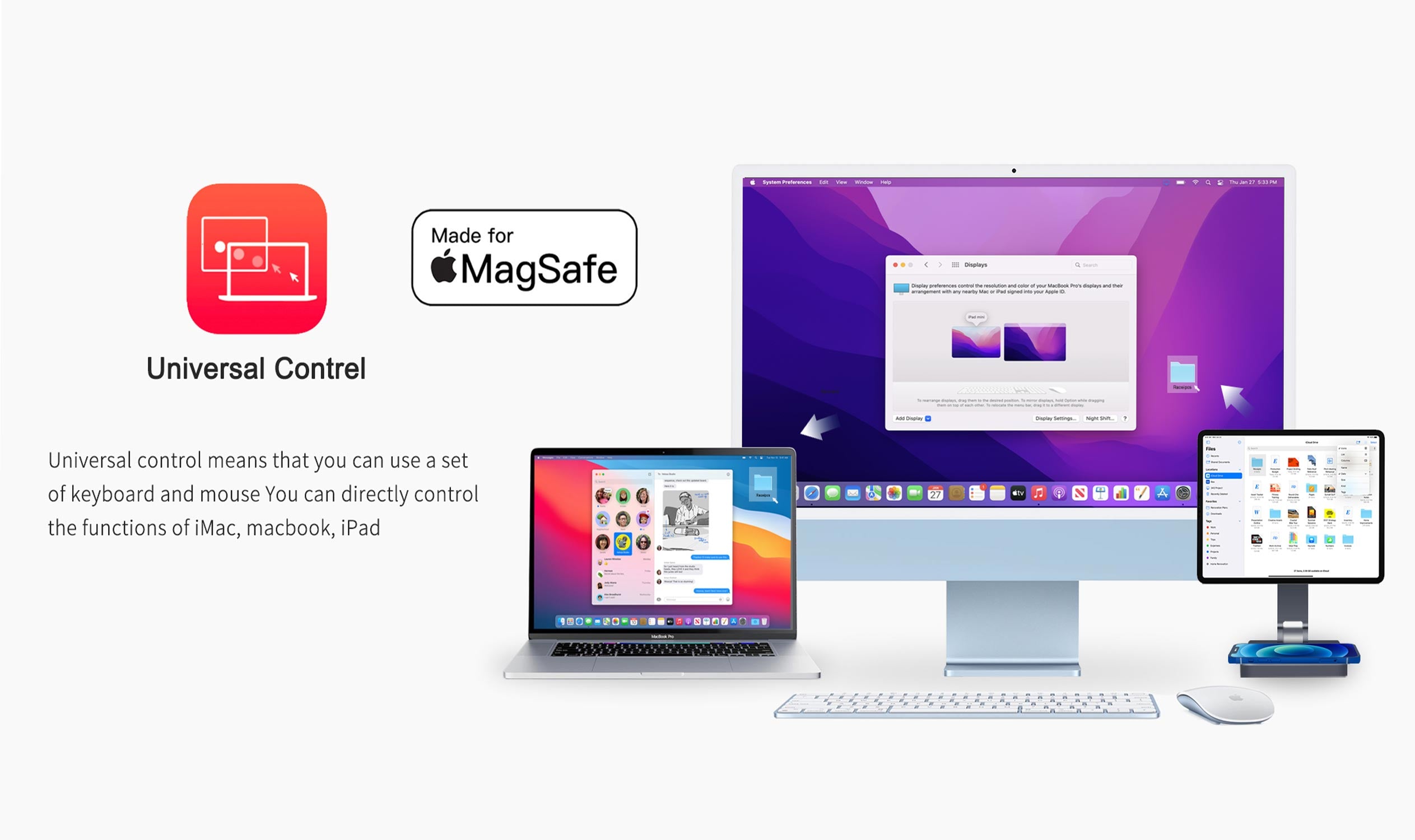 Universal Control is a macOS feature that lets you use your Mac to control another Mac or iPad. This means your Mac's mouse, trackpad, and keyboard can be used on other devices. You can also drag and drop files between up to three devices connected through Universal Control.
Benefits of using Universal Control
If you have an iMac, iPad, MacBook and other devices. Only need one set of keyboard and mouse, you can use it on all three devices at the same time, very convenient and space-saving!
This will make Apple fans very excited!
If you often use your iPad as an expansion screen, this will make everything as convenient as it can be!
Click here to learn how to use Universal Controls
A Good Partner For Universal Control
The Universal Control feature has a great impact on the iPad
Because it increases the productivity of iPad
If there is a perfect stand, it can directly turn iPad into a small workstation, a perfect expansion screen
The following are the recommended products
Magfit longsea Magnetic Stand Plus
Magfit longsea is the first brand to launch a foldable magnetic stand
Different from the ordinary iPad stand
This stand magnetically attracts your iPad
And, this is an upgrade of their first generation magnetic stand
Magfit longsea Magnetic Stand Plus is taller and more magnetic than the first generation magnetic stand.
The most special thing is that the 12.9 inch stand has a detachable hook design
It can directly hold the 12.9-inch iPad Pro while adding the hook to hold other devices, such as Samsung tablets.
Portable expansion screen, old iPad, cell phone, switch, etc.
Innovative design.
Magfit longsea iPad & MacBook Magnetic 10in1 Dock Stand
This product is Magfit's exclusive design product
with 10 ports.
HDMI 4K@60Hz | PD100W | USB3.1*2 (10Gpbs Transfer) | USB2.0 | SD Card | TF Card | SD Card | TF Card | 3.5mm Audio Jack | RJ45 Network interface |USB C Output
A perfect combination of magnetic ergonomic stand and powerful 10in1HUB
Aluminum alloy texture, like a natural extension of the iMac
And the HUB function can be used directly with all USB C devices. That is, your MacBook and other laptops can be used
Magfit longsea 2in1 iPad Magnetic Stand

This product is another upgraded version of the magnetic stand, equipped with QI wireless charging
It allows you to charge your iPhone and other devices wirelessly
Great desktop gadget