Flip Desk Clock Internal Gear Operated Mechanical Retro Style Digital Display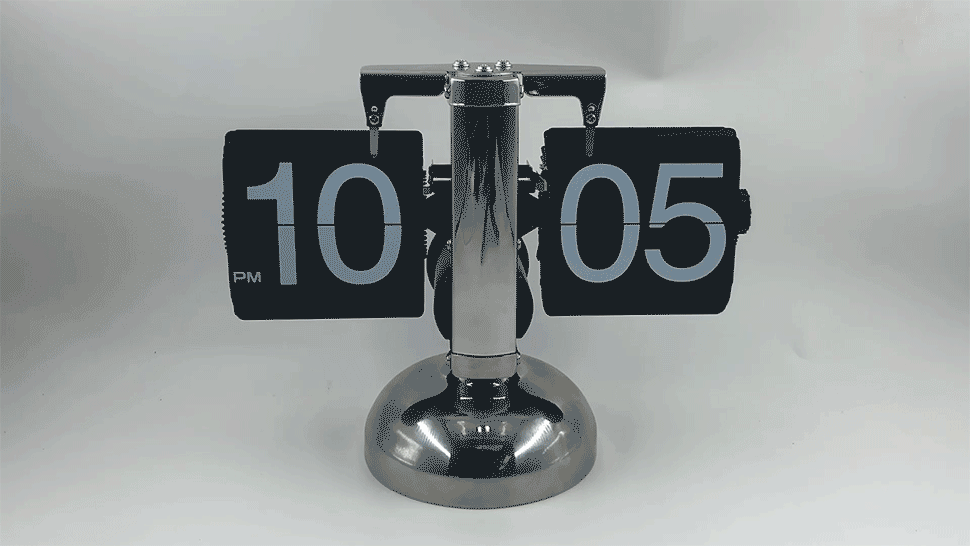 This mechanical retro flip clock was designed by Dutch designer Will Vanden Vos.
Compared with other digital clocks, this digital clock displays time neither through the pointer, not through the LCD screen, but with a similar sports game scoreboard display to show.
This retro flip clock is an ideal gift for Birthdays, Father's Day, Thanksgiving Day, and Christmas. Perfect decorative for office, kitchen, and bedroom, etc.
S
pecifications:
12 Hour AM/ PM Clock
Flip Down Minute and Hour Display
Gear Operated Time Adjustment
Power Source: 1 x D Battery (not included)
Dimensions: 165mm x 205mm x 70mm (L x W x D)
How to use your flip clock?
STEP 1:

 

Prepare 1x D Battery (

Please use CARBON-ZINC battery, NOT the ALKALINE battery

);
STEP 2:

 

Turn the battery cover in the direction of "OFF", when the two triangles meet, take it off;
STEP 3:

 

Install the battery. Please note the "+" towards outside;
STEP 4:

 

Turn the battery cover in the direction of "ON". When the Bar corresponds with the triangle, the battery has been installed;
STEP 5:

 

Rotate the direction knob counterclockwise to adjust the time (Please set 1 minute earlier than the exact time).