MAGFIT USB-C Docking Station 14 in 2 Hub Vertical Stand For MacBook Pro with 8K HDMI cable
The MAGFIT 14 in 2 is a full-featured desktop workstation specifically for MacBooks.
It is a 14 in 2 multi-functional USB-C expansion HUB adapter which can expand your laptop's USB-C port. 
Let your computer have more ports to expand at the same time, including 1*VGA, 1*AUDIO, 2*HDMI, 2*USB2.0, 1*RJ45, 1*PD, 2*USB3.0, 1*USBC, 1*SD, 1*TF for HUB
(Please download the latest version "V2.8 R02")
https://www.siliconmotion.com/downloads/index.html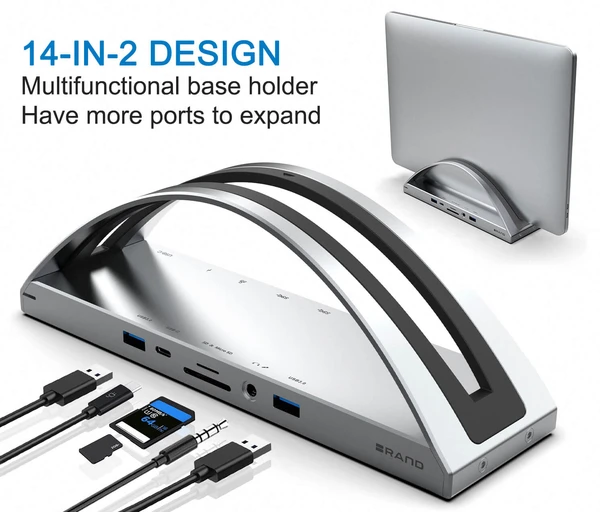 14-IN-2 MULTIFUNCTIONAL DOCKING STATION
One USB-C port fully extended, two HDMI outputs, 4K@60HZ resolution, vivid video, Type C PD 3.0 charging port provides 87W super-fast charging speed, 2 USB 3.0 ports, and 2 USB 2.0 ports help you transfer data and connect wireless devices at 480Mbps super speed. (Support SST/MST)
 USB-C Multifunctional Docking Station is a full-featured desktop workstation that supports dual C ports, specifically for Windows OS 7/8/10 (X86/X64), Mac OS 10.2+, Chrome OS, etc. It supports 2 USB-C source inputs, 1 USBC to add 2 monitors via 1 HDMI and 1 VGA port, and another USBC can add 2 monitors via 1 HDMI and 1 VGA port, and another USBC can add 1 monitor.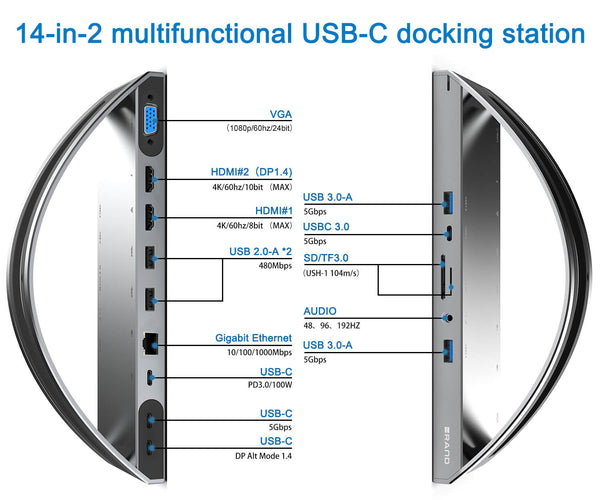 4K ULTRA HD DISPLAY CAPABILITY
The docking station is equipped with three display video outputs, HDMI + HDMI + VGA, where the HDMI resolution is 4K@60Hz, that is, VGA resolution is 1080P, the other HDMI resolution is 4K@30Hz. support Macbook MST display can be extended to a different display screen, HDMI interface alone is 4K60HZ, HDMI + VGA, according to the device environment, if the dual-display former is 4K/30HZ the latter is 1080P, a single interface can achieve better resolution when used.
Bring great convenience to your work, but also allows you to easily enjoy the home theater.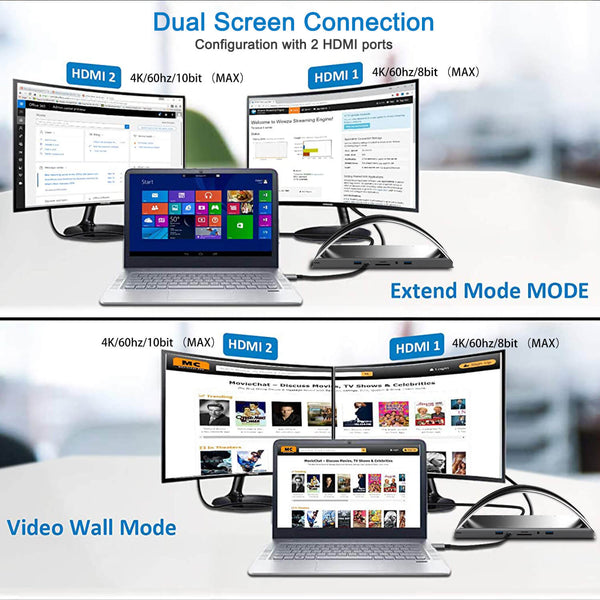 EASY DATA TRANSFER AND SYNCHRONIZATION
Easily solve office anxiety, Docking station + bracket + dock charger + seamless combination, super high-speed 5Gbps data transfer, connect laptops, tablets, and hard drives for easy data transfer. Built-in SD and TF slots, transfer rate 3.0, 3. 5 mm audio jack allows you to listen to music through headphones. (USB3.0 rate, support SD/TF simultaneous read/write operation)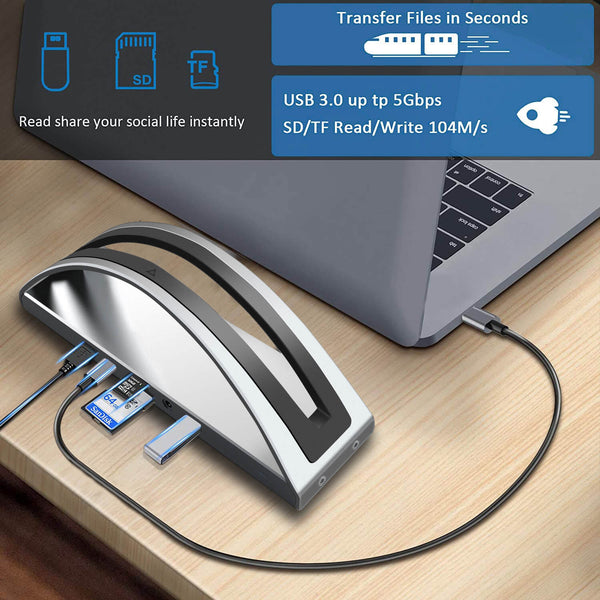 UNIQUE DESIGN &VERTICAL STAND
MAGFIT 14 in 2 is not only a multifunctional docking station but also a perfect STAND
And you can also connect an external monitor, keyboard, and mouse to your laptop, and then connect your laptop or Macbook (using Macbooks' closed flip mode) to save your desktop space.
Keep your MacBook away from spills and make your workspace cleaner and less cluttered.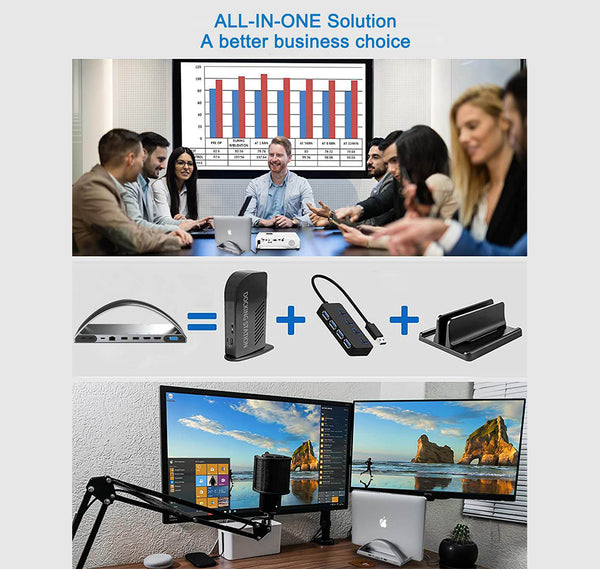 ALUMINUM ALLOY MATERIAL
One-piece aluminum alloy, small but sturdy body, do not worry about the use of the process will be hot, advanced metal texture as art, with your device with just the right, not only can be placed items can also be used as a stand. (Product includes a single-port type c, a dual-port type c cable)
 COMPATIBLE MODEL DETAILS:
Note: This product is not compatible with 2020 MacBook M1 version