Bluetooth Conference Speaker with Microphone
Ai Noise-Canceling Microphone & Speaker,Smooth and Clear Conference Experience
This Bluetooth speaker comes with a microphone, Ai chip, intelligent noise cancellation, clear sound pickup, plug and play, professionally adapted to a variety of conference needs.
 A Complete Conference Solution
We have taken into account all the features you need and optimized them for you, so a rich and powerful set of features is born, a Bluetooth speaker is a system.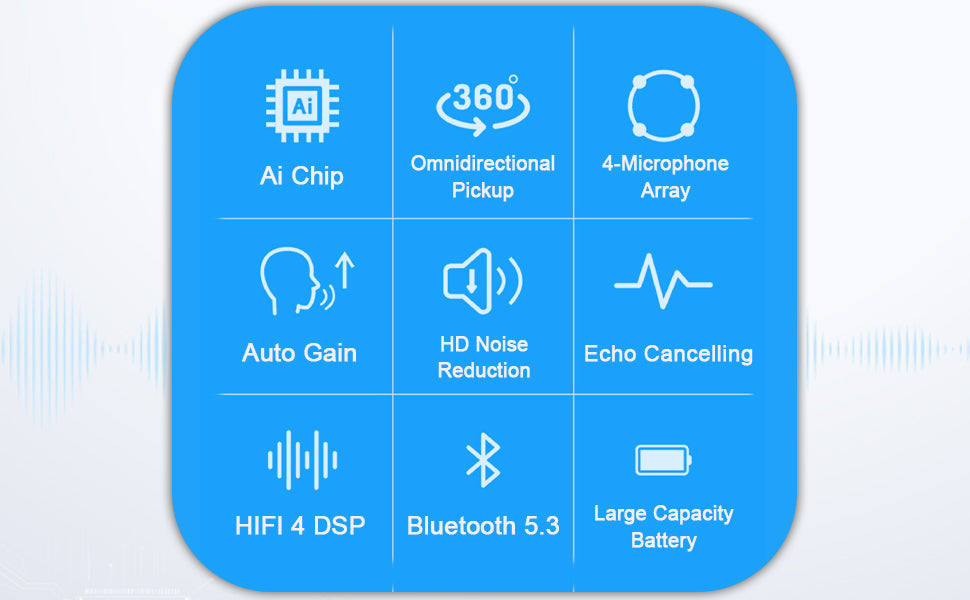 Array Microphone With 360° Sound Pickup
Built-in 4 MEMS microphone array, you can radio from all directions of the room without having to move the microphone around. You can clearly collect the human voice and communicate smoothly as if face to face.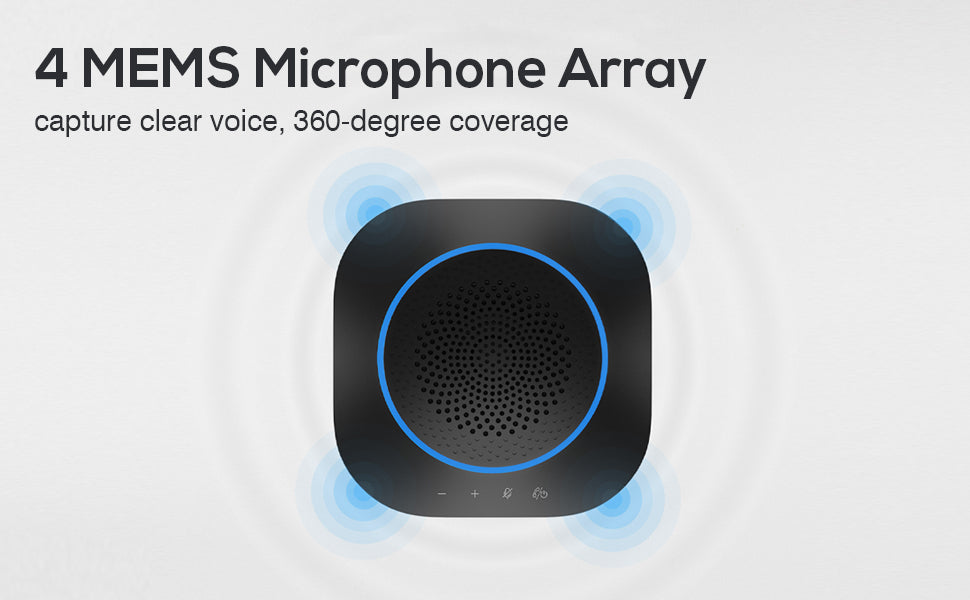 Automatic Gain And Noise Reduction
AGC automatic gain compensation, so that the participants' voices are picked up at a certain volume level, without the sound going up and down when the distance between the speaker and the microphone changes.
ANS background noise suppression, which detects background fixed frequency noise and eliminates background noise, such as: fan, air conditioner sound, pulling chair sound, tapping keyboard sound automatically filtered out, presenting a clear voice of the participants.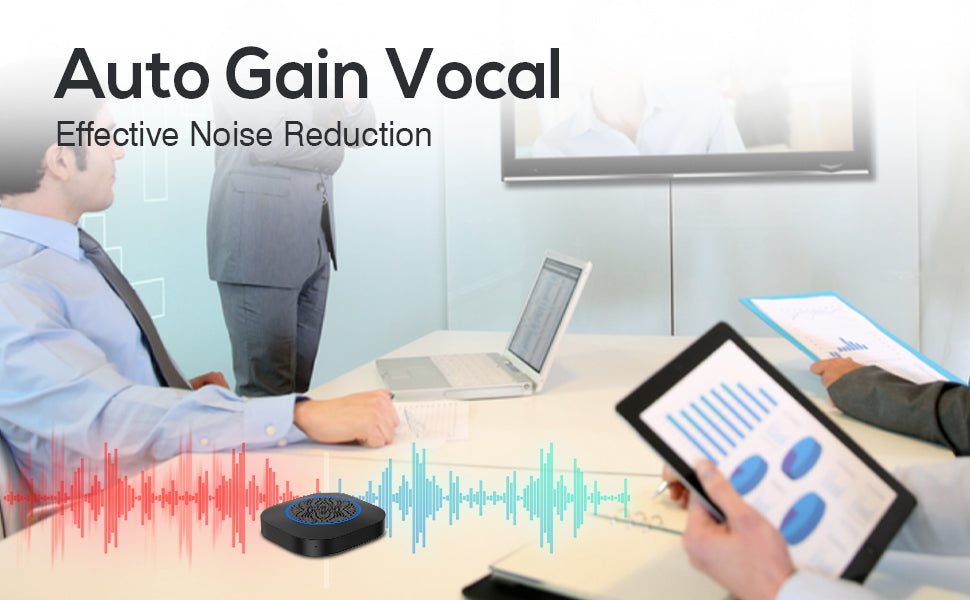 HD Speakers And Echo Cancellation
Built-in dual-core HIFI 4 DSP, when in the video and voice calls, can clearly render the other party's voice, AEC automatic echo cancellation, effective elimination of suppression of call echo and whistling, to ensure two-way HD calls.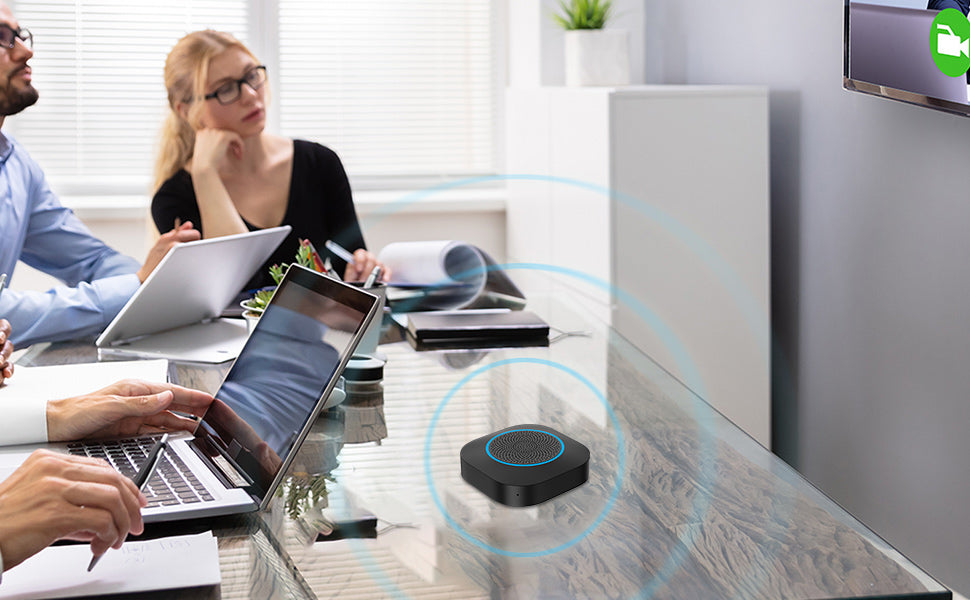 Two Connection Methods To Support Multiple Devices

Easily connect to your phone or iPad via Bluetooth, Bluetooth version 5.3, stable and power saving.
Connect with PC or Mac via USB cable, plug and play, no need to install any program, compatible with Windows, MacOS, Chrome OS.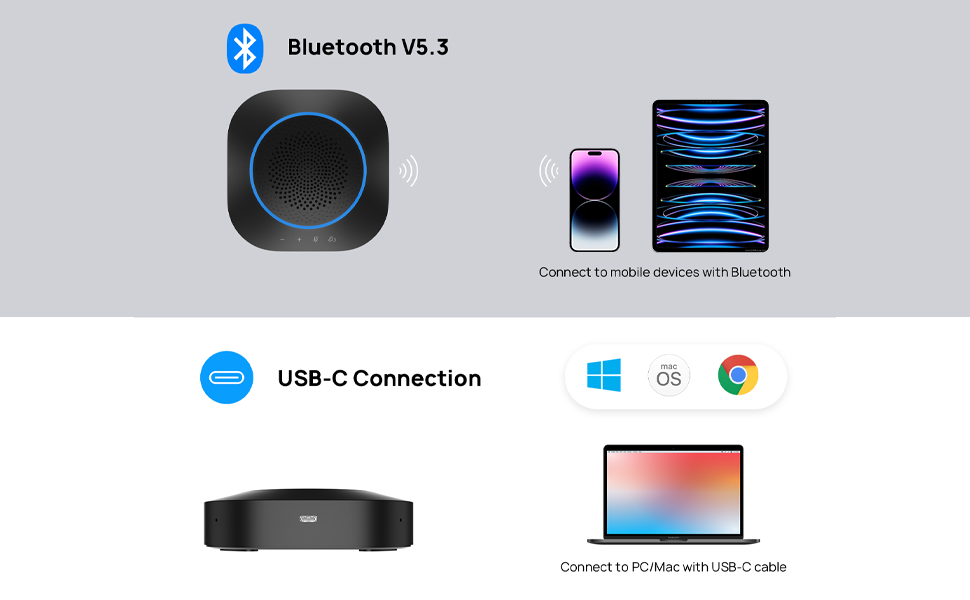 Support A Variety of Software, 8 Hours of Continuous Calls
Built-in 2000mAh rechargeable lithium battery with ultra-long battery life, keep 8 hours of continuous calls without worrying about delaying important moments. Compatible with commonly used calling software such as Zoom, FaceTime, Skype for Business, WebEx, etc.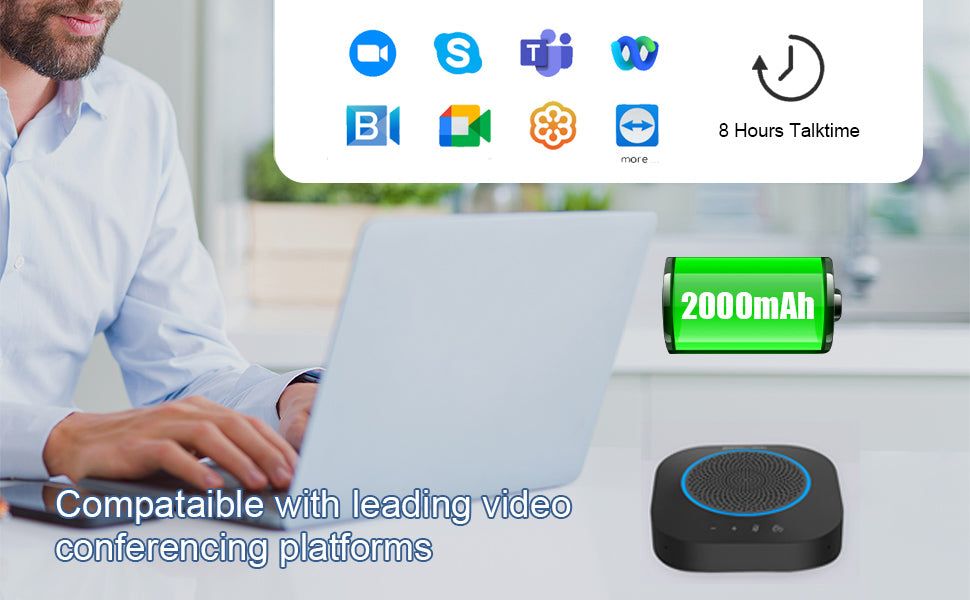 Key Operation And Light Lndication
It is very easy to use, convenient button operation, and the buttons are patterned, get your hands on it.
LED light will show the current Bluetooth connection status, volume adjustment, microphone mute, etc., so you can control the call effect in real time and improve efficiency.